K.S. Wuertz
Biography
Kim began writing and being published as a poet during her teenage years. The first national publication was published in Bitterroot, a national poetry journal. In college, her work was chosen for review during a campus writing symposium by Stephen Spender (T.S. Elliot's best friend and a writer himself). After college, she pursued a different career.

Throughout her 'day-job careers', she used her writing skills. As an early childhood education teacher, she wrote finger plays and simple short stories for the children. During her career as a fund raiser, she became a certified grant writer. About five years ago, she wrote a curriculum for adults with developmental disabilities as a part of her ministry work. During the past 20 years, she has taught grant writing seminars and currently teaches creative writing and gives school presentations as an 'Author/Illustrator in Residence'. Kim teaches writing and publishing workshops for children and adults.

Writing is her first love, but her motivation for writing continues to change as time passes. From her writing desk, She raises her eyes to see the trees, birds, squirrels and her own 'Mimosa Lake'. Kim hopes her work brings all her readers to a place where life is simple and quiet. One of her primary goals when writing is to place the realization of how we are interconnected with nature, in the reader's mind.

Admittedly, Kim had not considered writing books until two years ago. There are two factors that influenced her in this direction. Initially, Kim enjoyed the process of writing and then illustrating her first children's book: 'It All Happened…At The Old Oak Tree'. She then realized, this new work felt like 'coming home'. Now, she has come full circle in her life -- back to her teaching and early creative writing days. The response to her books continues to overwhelm Kim and guides her. She says: "I'm taking sure-footed steps down a long-awaited path!"
Books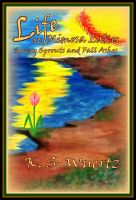 Life at Mimosa Lake: Spring Sprouts and Fall Ashes
by

K.S. Wuertz
Join River Ivery, Dock Crayton, Georgia Lemonn, Missy Wright,Herbert and Selma Potts, and all the Mimosa Lake neighbors as they are tested in a firestorm of fear, grief, heat, lust and loss. Will hope, kindness, understanding - and love - help them keep their faith and rise from the ashes? With God's help the neighbors may discover that the strongest spring sprouts grow from fall's ashes.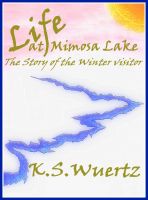 Life At Mimosa Lake: The Story of the Winter Visitor
by

K.S. Wuertz
life at mimosa lake: the story of the winter visitor is filled with faith, community, hope and humor, tinged with bits of philosophy from the quirky, independent souls who reside on the shores of this rural lake neighborhood. times are tough and frankly, river ivery and her neighbors are discouraged. herbert potts knew this would happen. but god answers with unexpected greatness!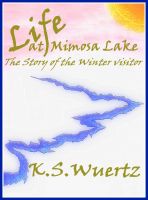 Life At Mimosa Lake: The Story Of The Winter Visitor
by

K.S. Wuertz
Life at Mimosa Lake: The Story of the Winter Visitor is the first novel in the Mimosa Lake Series. The series follows the neighbors living on and around the shores of a rural lake in the midwest as they explore their faith and meet the challenges and joys life brings them. Humor, friendship, tears, troubles and celebrations flow through their lives. There's no warmer place to winter than Mimosa!
K.S. Wuertz's tag cloud