Kathleen Baker
Biography
KaCinderly Baker is a travel fan, a history buff, a student of ancient rulers, and a mystery lover. With those heady credentials, she has crafted a magical, epic tale with a quest that spans the ages. The lack of good answers to history's most compelling questions and unknowns has caused the author to create her own answers. Out of Baker's creative mind has sprouted an engaging fantasy that takes fiction and weaves it seamlessly through historical fact in The Thirteenth Stone of Aaron, the first in a trilogy.
Books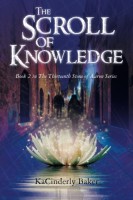 The Scoll of Kowledge
by

Kathleen Baker
The Scroll of Knowledge, the second book in the Thirteenth Stone of Aaron series, is an exciting, action-packed work of historical fiction that delves into unanswered mysteries of Alexander the Great and Theon, the last keeper of the Great Library of Alexandria.
The Thirteenth Stone of Aaron
by

Kathleen Baker
History's mysteries are not just revealed—they explode onto the scene in this gripping, fast-paced tale. The Thirteenth Stone of Aaron by KaCinderly Baker is the first in a trilogy that uncovers fascinating facts and seductive secrets from the ancient past and weaves them with the quest for power in the present day. This book is a thriller that will engender a great interest in ancient history.
Kathleen Baker's tag cloud