Becky Haugen
Biography
I am Becky, a single mom, Manifest Expert, Happiness Engineer, owner of Kaets Accurements, LLC, Philanthropist and Entrepreneur. I struggled trying to be invisible due to abuse, neglect, and poverty as a a child from my biological family. I spent my younger years in search for the big question, "Is this all there is?" I started off with researching Theology and dating Religions back to 15k BC in hopes to find out why God abandoned me. I read books like Celestine Prophecy, The Power of Now, Moon has a Harsh Mistress, Dune, Nietzsche, Art of War, etc. with even more questions of "Is there more then what I can experience with my 5 senses?" II graduated in Mathematics and General Science Degree focused on Physics. I started down the Path reading the Secret, Tony Robbins, Ester Hicks, Wayne Dryer, Bob Proctor, etc. as I worked as Accountant and Events Planner for 20 plus years. This lead to even more questions so I became an investigative journalist and AP reporter for fun in 2010 for small social media websites. During my work as an investigative journalist, I landed a job as Senior SEO Marketing Manager, Chief Co-Writer/Editor and TV Producer of a small online media company. In 2014 my life changed dramatically when I finally got the chance for FREE to attend Unleash the Power Within after 8 years reading and listening to as many recordings I could get my hands on of Tony Robbins. I have spent years being coached and counseled to help guide my way to finding a better life for me and my children. Now, I bring all my years of hard work, research, failures, and success to create this book for you.
Where to find Becky Haugen online
Books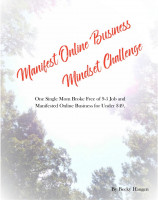 Manifest Online Business Mindset Challenge
by

Becky Haugen
I am Manifest Expert, Happiness Engineer, and SEO Marketing who Broke Free of abuse, horrible past, and 9-5 Job and Manifested Online Business for Under $49.
Becky Haugen's tag cloud