Aulani Nahina
Biography
My Name is Aulani Kahanauakea Nahina. I'm born and raised on Maui, and I've been living in Washington state since 2001. I am proud to be Hawaiian and a mutt mix of everything else under the sun. I'm a mother of one son named Kainoa Nahina-Snoddy. I've wrote children's books since before preschool; before my writing was legible. My family and I have fun, we don't disappoint, and we're always there for each other. We own our flaws and accept our truths. Thank God we know a better day which is every day since December 10th, 2008. While writing my books about children; I missed my edge. There was a fire missing that withdrew me from becoming the author I longed to be. Entertaining my family with a whopping 22" long baby boy was the same day I caught on fire. Metaphorically speaking, my sons date of birth brought me to tears, joys, and a lot of pains immediately after he came into my life. My son is me, and he is my motivation... he is the reason I pray.
Books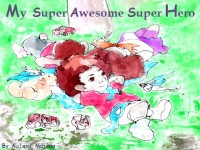 My Super Awesome Superhero
by

Aulani Nahina
"My Super Awesome Superhero" begins telling a story of simplicity in finding strength through triumph. The main character remains nameless and is pigmented just as the rest of the people depicted. An ambiguous character and surprise ending will have you searching for the next book. My son Kainoa is who I dedicate this too, and all the parents who go above and beyond to take care of their children.
Aulani Nahina's tag cloud