Kai F. Reix
Biography
I hope you enjoy my books. Most of us have been brought up to be at least slightly ashamed of anything sexual, and it is frequently reassuring to discover that we are not different, naughty, or even perverted in our sexual practices. In discussing sex with others, people find out how truly normal they are.
Where to find Kai F. Reix online
Books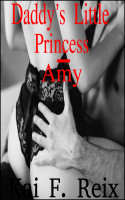 Daddy's Little Princess
by

Kai F. Reix
"You don't find it a bit weird, since your father is sitting right next to you?" Jessica asked handing over the remote to Amy, who was stuck between us with her legs curled up in front of her. "And shouldn't you start dressing more seriously?" My wife was right, Amy's choice of 'pajamas' was very tempting. She was wearing only some panties and a short t-shirt. Just watching her gave me a hard on.
Kai F. Reix's tag cloud