Chris Mercer
After a career as an Advocate practising law in Zimbabwe and Botswana, Chris came back to South Africa in 1984, and decided to retire young. He farmed in the Western Transvaal for ten years, before he and Bev moved to the Kalahari to establish a wildlife rehab centre and Sanctuary. Kalahari Dream is the story of that centre; how it was founded and what wonderful birds and animals they rescued.

After moving from the Kalahari to Wilderness in the Cape, Chris kept busy building up the NGO which he and Bev had founded, called the Campaign Against Canned Hunting (CACH), a registered non-profit and public benefit organisation. The couple's work has earned them awards, both in SA and international.

Chris received the Marchig Trust's annual award for global animal welfare work in 2007. In November 2015, CACH attended the award ceremony in London at World Travel week to receive the award for Best Animal Welfare Initiative from World Responsible Tourism.

In July 2015, the couple sold up and put their life savings in to a 175 hectare piece of land in the Klein Karoo near Ladismith, in order to set up a new wildlife sanctuary. The Karoo Wildlife Centre will start taking in orphaned and injured animals in early 2016.

The couple are also authors of the book "For the Love of Wildlife," the true story of one Namibian farming family's efforts to set up a lion sanctuary.

Specialties

Animal Advocacy, Wildlife Rehab.
Kalahari Dream Book Promo
Promo video to give context to the book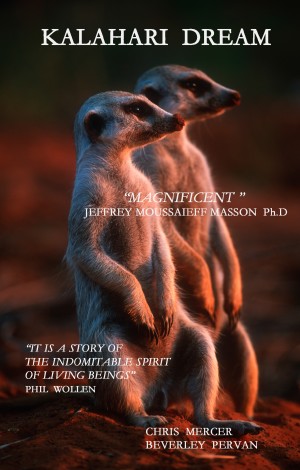 Kalahari Dream
by

Chris Mercer

&

Chris Mercer
(5.00 from 2 reviews)
A book for animal lovers. From the authors of the critically acclaimed book 'For the Love of Wildlife' comes a compelling true story of one couple's struggle against overwhelming opposition from conservation authorities, to set up a wildlife rehabilitation centre in the Kalahari.
Smashwords Style Guide on Oct. 16, 2011



A wonderful guide which even I understood and was able to implement. Formatting, and the time taken to learn how, is hard work, but the results are immensely satisfying. thankyou, thankyou, thankyou. Chris Mercer