Karel Jaeger
Biography
Karel Jaeger is an adventurer who loves to travel, in the real world, in the e-world, and in the psyche world. And that's where he lives: in the places he travels. Keeps in contact with people through the ubiquitous e-links – even if he travels to the dark spots, to the darkest caves, to the blackest minds. He'll be back – has many more words to share.
Where to find Karel Jaeger online
Books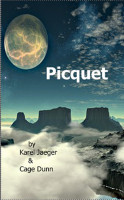 Picquet
by

Cage Dunn

&

Karel Jaeger
A new world, a dangerous place mistakenly assessed as suitable for human colonisation. Corporal Kopa Redding becomes a senior member of the rapidly diminishing group of colonists on the new planet. He must lead the motley group of civilians to the only possible point of extraction. But was this planet a mistake, or exile? Nothing is familiar. Nothing is safe.
Karel Jaeger's tag cloud