James R. Cissell
Biography
James R. Cissell, a writer and Methodist minister, lived in South Dakota with his wife Marie and their two daughters, Amy and Elizabeth. A man with a wry sense of humor and a love of hymns, Cissell wrote about his passions: family, faith and Christian music. He died in 2012. His previous publications include The SING-ular Faith: A Daily Devotional with Charles Wesley, Books 1 and 2, and The Dragon Cast Down: Book I. He also co-authored The Journey West: Chaos Theory 101 with his brother, Michael Cissell.
Books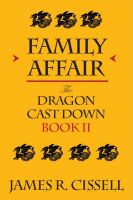 Family Affair: The Dragon Cast Down--Book II
by

James R. Cissell
Frances Gadsby, 17, is a Keeper of Dragons who takes on evil in 1884 Duluth, Minnesota. Dragons, seen only by Frances and her kind, feed on emotions bred by the seven deadly sins—anger, greed, sloth, pride, lust, envy and gluttony—and it is Frances' job to slay them. When the past abruptly intrudes on her friend Katie Waverly's life, it brings danger-and dragons-to everyone they love most.
James R. Cissell's tag cloud