Karen Brant Van De Walker
Biography
K.L.B. (Karen Louise Brant) Van De Walker has been a Christian for most of her life. She was raised Lutheran, but, along with her parents and siblings, became active in the Charismatic Revival of the 1960s that was happening in the San Fernando Valley in California. Karen went to college in Oklahoma and graduated from Oral Roberts University with a B.A. in English Literature. Returning home to California, she and her family became involved with deliverance ministry, something she and her mother particularly practiced even after moving to Orange County.
For a time, Karen and her mother were active in Aglow Fellowship, and she later taught an independent women's Bible study for some years.
Karen is married, and her children were home-schooled.
Books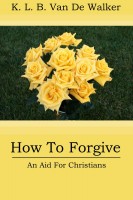 How to Forgive - An Aid to Christians
by

Karen Brant Van De Walker
Do you know you need to forgive someone, but don't know how? Do you struggle with hurt over past wrongs, or bad memories? The forgiveness method in this short booklet may be an answer. K.L.B. Van De Walker, a Christian intercessor, developed this five-step program so Christians can experience freedom in this critical area of thoughts and emotions.
Karen Brant Van De Walker's tag cloud