Karol Bojnowski
Biography
A holistic physician turned writer, Karol Bojnowski was born in Montreal to war refugee parents. He grew up in South Africa during apartheid. He is motivated by a sense of justice and a deep love of nature. His shoestring adventures span dozens of countries around the globe. His wildest whim was sailing across the North Pacific, having never spent a night at sea. He and his wife live in the Sierra Nevada foothills of California.
Where to find Karol Bojnowski online
Videos
ZANE'S BRAIN (A NOVEL) TECHNOLOGY, OIL, GOD, HISTORY, DNA
Our top researchers say that without written language civilization would not exist. Written language is the infrastructure of civilization itself. Writing is the code that created the matrix of our worldview. Written language is roughly 5000 years old. Until just a few hundred years ago 99% of the globe was illiterate. We are at a time when pop-culture is merging with intellectual culture. Questions: So I ask you, who were the 1% who wrote and controlled the writing for 5000 years?
Books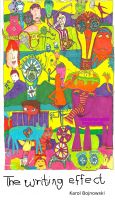 Essay: THE WRITING EFFECT
by

Karol Bojnowski
Price: Free!
Words: 2,460.
Language: English.
Published: September 13, 2011
. Categories:
Essay
»
Political
If you were a fish would you know you lived in water? When it comes to cognitive science the average person shrugs and rolls their eyeballs. It's hard to care about something that seems so esoteric, but what if I told you your mind was shaped by something so sublime that you'd be hard pressed to grasp the full implications. WARNING, the medium your thoughts swim through IS NOT your own!
Karol Bojnowski's tag cloud