K. D. Harris
Biography
K. D. Harris is a novelist and screenwriter of Science Fiction and Fantasy. He holds a B.S.E in General Engineering from the United States Naval Academy and is currently pursuing a B.A. in Creative Writing for Entertainment at Full Sail University. Publications to his credit include "For If They Fall…," (Down in the Dirty Magazine, July 2018), and "Turbulence," (The Corvus Review, July 2018). He's served as an enlisted member of the United States Navy and a Commissioned Officer in the United States Marine Corps. He's currently a Fulfillment Center Manager at Funko, LLC. He believes in doing good for goodness sake and inspiring others to be the best version of themselves. A tattoo on his back pays tribute to the words of Ralph Waldow Emerson, "To know even one life can breathe easier because you have lived…". Follow K.D. Harris on twitter: https://twitter.com/kazDhar. Also follow his story Reapers: The Apprenticeship of David Mancia at http://harrislegacy.com/.
Where to find K. D. Harris online
Books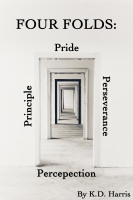 Four Folds: Pride, Perseverance, Principle, & Perception
by

K. D. Harris
FOUR FOLDS: PRIDE, PERSEVERANCE, PRINCIPLE, & PERCEPTION is a collection of four stories of flash fiction brought to life through drama and science fiction.
K. D. Harris' tag cloud