Katerina Berezina
Biography
Роман «Отрывной календарь» – реальная история. Она произошла не со мной, но с очень хорошими людьми. Их мужество и желание строить жизнь самостоятельно вдохновило меня. Так получилась книга. Конечно, я написала художественную версию произошедшего, изменив имена и место проживания. Что осталось неизменным – их мысли, взгляды на жизнь, постоянная борьба с обстоятельствами и стремление жить спокойно и свободно. Нашему поколению, рожденному в 70-х в России, достались не самые лучшие времена. Перестройка, демократия, переход в капитализм, постоянные кризисы, – мнимое и реальное одновременно. Отсутствие стабильности выбивает из колеи, мешает планировать будущее. Многие живут сегодняшним днем, не заглядывая далеко вперед. Некоторые уезжают из страны в поисках стабильности, другие открывают бизнес, зарабатывают деньги «в черную», не показывая доходов. Много таких, кто решает постоянную задачу: платеж по ипотеке или поездка на море, кредит или копить на новый диван. У кого-то жестче: мясо на ужин или зимние ботинки сыну. Да, мы – разные, у всех свои причины успеха и поражений. Но нас объединяет неутолимая жажда любить и жить с миром в согласии, видеть его, осязать и быть свободными в нем.
Where to find Katerina Berezina online
Books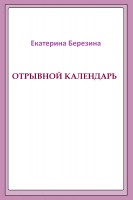 Отрывной календарь
by

Katerina Berezina
St. Petersburg, 2012. Natasha - lonely young woman with traditional views. Natasha suddenly learns that the best friend is living with a woman and wants to have a baby. Natasha will be introduced to Alexander - a potential father of the child and help him to make a difficult decision. Taking part in the fate of others, changing and Natasha herself and her life. The novel is based on real events.
Katerina Berezina's tag cloud