Tony Oliver
Biography
Tony Oliver is a renowned recipe creator who has brought flare to cooking where healthy eating has become a way of life and provide solutions to life-threatening chronic illnesses.
He has written several cookbooks from Vegetarian Cookbook, Stir Fry Cookbook, Juicing and Smoothies to Instant Pot Cookbook.
With this background, he has vast experience in cookbook authoring. She is currently working on a 150 recipe Sous Vide Cookbook. Her cookbook, titled "The Modern Sous Vide Cookbook: 150 Classic Recipes" is a book with mouth-watering and succulent juicy recipes.
The book has a rich diversity of recipes and is intended for home and restaurant cooking. He wrote, styled, and took to serious shooting of the shots of the food for all the 150 recipes that you see in her Modern Sous Vide Cookbook. He is currently working towards writing more culinary cookbooks for her ever widening worldwide customer base.
Books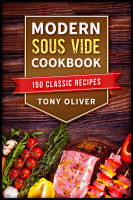 Modern Sous Vide Cookbook: TOP 150 Classic Recipes + Cocktails
by

Tony Oliver
Easy and Delicious Sous Vide Recipes for Beginners and Experts + photo
Tony Oliver's tag cloud