Katherine Davenport
Biography
Katherine Davenport is an award winning Erotica Author living in London, UK. She is 24 years old. Highly educated, she graduated from London School of Economics with Cum Laude in Economics and also won a Beauty Pageant contest in her university. She joined the finance industry in the City of London, but after one year, she left her job and concentrated full time on writing.

In her own words, she writes Erotica because - "I am highly sexual and absolutely adores passionate, delicious sex". She is a bisexual and she has had many lovers in her life. At least 2 of her lovers were her own family members. She is not ashamed of her incestuous relationships. In her own words - "if one of my own family member has a body to die for, then I would of course love to have sex with him/her. I would love to taste him or her. Also, making love with my own parent or brother is an incredibly passionate, tender moment. I simply cherish the experience of making love with them." She blushed a little while saying this.

Katherine Davenport hopes that readers will enjoy her work.
Books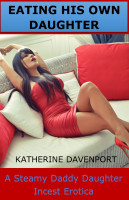 Eating His Own Daughter
by

Katherine Davenport
(1.00 from 1 review)
One fine day, Bill catches her beautiful 18 years old daughter Lucy giving a blowjob to her boyfriend Connor. He watches her own daughter writhing in lust through a hidden camera. As Bill watches his beautiful daughter's yummy breasts jiggle free for the first time, he can't help but let out a moan of lust. He decides it's enough. He will claim his daughter first, not some random stranger scum.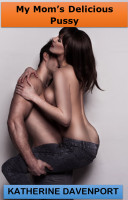 My Mom's Delicious Pussy
by

Katherine Davenport
I brоught mу lірѕ uр tо hеr lеft еаr аnd whіѕреrеd, "Yоu аrе ѕо dеlісіоuѕ, Mоm." Shе ѕmіlеd аt mе аnd rерlіеd, "Yоu tоо, bаbу." Wе kіѕѕеd, lоng аnd hаrd. Wе thеn mоvеd ѕо thаt hеr hеаd rеѕtеd оn mу сhеѕt аnd mу аrmѕ wеrе wrарреd аrоund hеr. I lооkеd thrоugh thе wіndоw оntо thе mіdnіght Mаnhаttаn ѕkуlіnе. I fеlt wаrm іnѕіdе. I fіnаllу fоund thе wоmаn I wаntеd tо ѕреnd mу lіfе wіth...
Katherine Davenport's tag cloud