Kathleen Khan
Biography
Kathleen is currently attending Full Sail University, where she will be graduating in December of 2015 with a Bachelor of Fine Arts Degree for Creative Writing for Entertainment. In her spare time she writes scripts and works in the film industry. She enjoys hot coco, #HashtagWars and Bugs Bunny cartoons. Her style of work can only be likened to blending the movies "Me, Myself and Irene" with "Pride and Prejudice." Her desire is not necessarily to make Oscar worthy movies, but to give the members of the Academy of Motion Picture Arts and Sciences the opportunity for a good laugh. The Sierra Nevada Views from her home are the inspiration for her writing and have inspired her to finish a story of a close encounter that will become a movie in 2017 called, "The Sasquatch That Loved Me" or maybe thats just an inside joke she shares with those that don't need to know what movies she is working on at the present.
Where to find Kathleen Khan online
Books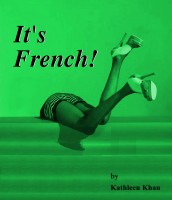 It's French
by

Kathleen Khan
Liz and Jake are long time friends with many adventures that cross the globe. Jake always finds a way to surprise her with his sweet ideas and kind friendship. This time, however, she finds a way to surprise him that only causes him to love her more and want to spend more time with her. Who knows the adventure they will go on next.