Kelvin I. Jones
Biography
Kelvin I. Jones has been a prolific writer for a quarter of a century. He is one of that rare breed who is equally at home writing poetry, plays and, above all, novels. His keen interest in both crime and folklore comes to the fore in A Cromer Corpse. He has published six books about Sherlock Holmes and the only study on Conan Doyle's interest in spiritualism.

Kelvin has written three books on folklore, including Occult Cornwall, as well as two fiction books for children – Odin's Eye and The Dark Entry (the latter co-authored with wife Debbie).

A Cromer Corpse is his fourth novel featuring the Cornish detective John Bottrell who possesses psychic abilities. In this latest work the hero moves from Cornwall, the most westerly county of England, to East Anglia, the most easterly region; a path that Kelvin knows only too well, as that was his destiny too.

In addition to novels he wrote The Field, a play for BBC Radio in 1995, and has had plays performed at The Barbican Theatre Plymouth and The Birmingham Arts Centre, as well as his own one man show Mr Bottrell's Amazing Tales at the Acorn Theatre Penzance. His poetry includes the moving Omega, which is a collection of poems about the survivors of a nuclear holocaust.
Books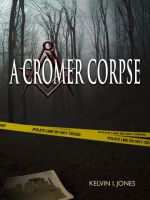 A Cromer Corpse
by

Kelvin I. Jones
Melancholic ex-cop John Bottrell is looking forward to a peaceful retirement until a dead man's body is fished out of the sea; the tongue has been cut out and a pentagram carved into the groin. It's a ritual killing. The reader is drawn into a web of modern paganism, drugs and evil where nobody is quite who they seem to be, but everyone has a secret to hide – and a motive for murder.
Kelvin I. Jones' tag cloud