Ken Dean
Biography
Born in the U.K. Emmigrated to the U.S. when I was a young child. I have generally been interested in dystopian fiction, but also read a variety from Shakespeare through college texts. I'm a soldier, a nurse, son, brother, many things. I'm bothered by the gradual decline in personal freedoms and sense of self reliance and personal responsibility that I see around me. The reliance and ever increasing big government is troubling to say the least. Much of what I am writing these days focuses on this aspect of the world. I have upwards of 8 books in various degrees of completion that I hope to publish as time slowly ticks by. There's plenty of fodder out there to use as a basis for writing. I thank you for reading this brief bio and hope you take the time to read my novel and enjoy it!
Where to find Ken Dean online
Books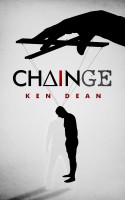 Chainge
by

Ken Dean
The '1984' of our generation... For some, freedom now means service, for others freedom is the blissful existence of ignorance. Rights are now determined by the Provider. The world is upside down. We were promised change, but we failed to see it came with chains. Had we known…would we have allowed it? Server Huxley challenged the system only to realize the true meaning of change.
Ken Dean's tag cloud