Kenneth Carter
Biography
I grew up as a Navy kid. We moved around quite a bit, everywhere from California to Japan. Then we settled in Maine, where I lived until I finished high school. Then I struck out on my own, and attended the Art Institute of Toronto, where I received a diploma in both 2D and 3D animation. However I found that I have little patients for actually drawing, but the stories I was trying to tell were begging to be told. So instead of drawing them, I bring my characters and their worlds to life with words, which i find can paint a much better picture than any paint.
Where to find Kenneth Carter online
Books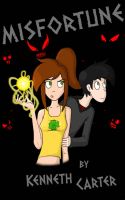 Misfortune
by

Kenneth Carter
The Misadventures of William Murphy, an unfortunate young man who finds himself stumbling through Olympus, realm of the Greek gods. His only chance for survival in this world filled with danger is a mysterious and uncooperative woman named Ty. Can the two of them keep Will alive long enough to figure out whats going on. Not even the Fates know for sure... and they've checked.
Kenneth Carter's tag cloud