Kevin Roe
Biography
Kevin Roe has a M.S. and Ph.D. degree in electrical engineering from Stanford University and the University of California, respectively, and a J.D. degree from Santa Clara University Law School. He is a registered patent attorney in Silicon Valley with an office in Saratoga, California. He has taught business law and intellectual property law at Stanford University and De Anza College, and has advised and provided legal services for several inventors and companies in all aspects of intellectual property law (e.g., patent and trademark law) and business law (e.g., contract law). Kevin's California law office telephone number is (408) 255-3000.
Books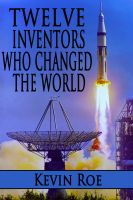 Twelve Inventors Who Changed the World
by

Kevin Roe
This book discusses several virtually unknown but amazing inventors and also provides incredibly impressive but little known histories of some recognized inventors. The entire technology of the world we live in today is quite literally built on the work of these individuals. A study of their achievements and the reasons for their achievements despite huge obstacles is worthwhile for anyone.
Kevin Roe's tag cloud