Kevin A. Worley
Biography
Kevin A. Worley has made money at various jobs over the years. They include drummer in a rock band, short order cook, electrician, furniture salesman, computer geek, custom art framer, actor, director, writer, substitute teacher, handy man, piano tuner. He even once got fired from a whorehouse. A voracious reader and movie fan, he has had a lifelong interest in fantastic fiction of all sorts. He lives in the middle of nowhere on ten acres in North Central Oklahoma with his wife and four cats.
Where to find Kevin A. Worley online
Books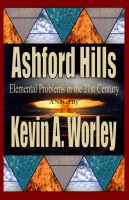 Ashford Hills
by

Kevin A. Worley
(4.50 from 2 reviews)
Ashford Hills had been shot at, knocked out, tied up and interrogated, all in one week. Life wasn't easy for a Private Investigator in the mid 21st Century. When Ash found that the BioTech deal he'd been spying on had Elementals involved, he tried to get out. When a rival El group kidnapped Ash's wife, things changed. Now the body-hopping, immortal Elementals have a problem: Ashford Hills.
Kevin A. Worley's tag cloud