Khardine Gray
Biography
Khardine Gray was born in the Caribbean and raised in England where she currently lives with her husband, two sons and family.
She has a deep love and passion for writing and has always found it exciting and rewarding. She started writing from the early age of eleven where she discovered that she could bring her imagination to life and transport her readers into her world of adventures.
When she's not escaping into her story world and being enchanted by her crazy, adventurous characters you can find her doing ballet, contemporary and Latin style dances.
During her teenage years she had the exciting opportunity of doing ice skating and competing at regional and national levels across the United Kingdom, following in the footsteps of her mother who was also a competitive ice skater and the star of the international Holiday on Ice.
Khardine loves shopping for make-up, perfume, and handbags. She's also seriously obsessed with hot chocolate and pizza.
She received a Bachelor of Science degree in Psychology and Law from London Metropolitan University and a LLB in Law degree from Northumbria University in Newcastle. She currently works in Finance for a very prestigious organization.
Khardine is the proud author of The Objection to Affection and is very excited to have the opportunity of joining The Romance Writers of America.
Hope you enjoy the trips she takes you on.
Books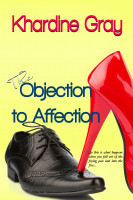 The Objection to Affection
by

Khardine Gray
So this is what happens when you fall out of the frying pan and into the fire. When Allyson Summers lost her job at The Bay News as a prestigious investigative journalist she thought things were bad. Her world and life she had created for herself had literally crumbled beneath her.
Khardine Gray's tag cloud