Frances Kilcrease
Biography
I am a long time resident of the Promise Land (Berea) community in Ashley County near Hamburg, Arkansas. I relish the study of the Bible that enhances my witnessing, teaching and writing. Most of my life, I taught a Bible study class, wrote articles and published print books. I authored print books in which I descripted of Holy Land points of interest including their history and related scriptures. My goal was to draw dramatic word pictures of the places where Jesus lived, walked, taught, did miracles, died, was buried, resurrected, and ascended back to Father God. And, where His feet will touch down upon His return to defeat satan's antichrist and his army in the battle of Armageddon.

For many years, I worked at expressing my love and concern for friends and family who were Nursing Home residents by organizing the "Scrapiron Gang", a group of singers that my pastor said that I "scrapped together" to bless them with old time Gospel Music followed by an inspiring devotional from God's Word. My late husband, Ace, played harmonica and bass guitar. He founded and played with the Haley Creek Boys, a bluegrass gospel band. His sons, Scutter and B-Buddy (Blaine) Kilcrease maintains his legacy as part of the band that entertains every where they are invited. Ace authored, published and recorded a powerful gospel song, "I'm Going to Heaven" where he now worships his Savior face-to-face while eagerly awaiting the arrival of his beloved wife of 61 years, me.

I am blessed that our daughter, Gwen is the devoted wife of pastor and evangelist Jimmy Draper.
Books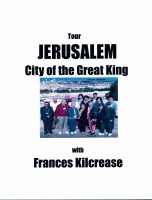 Jerusalem, City of the Great King
by

Frances Kilcrease
Enjoy a day-by-day diary of our blessed journey from Hamburg, AR to Jerusalem, City of the Great King. Join us as we tour Judea, Galilee, Mt. of Olives, Bethlehem, Dead Sea, Masada, Quanran and a Walking Tour of the Old City, Jerusalem. Touring Jesus' birthplace and where He walked and taught thrilled my heart.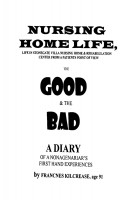 Nursing Home Life - Life In Stonegate Villa Nursing Home And Rehabilitation Center From The Patients Point Of View
by

Frances Kilcrease
How will YOU react to being ordered into a nursing home occupied by disabled Come walk through her experience as you are blessed by his compelling journal penned by Frances Kilcrease, a lifelong resident of Ashley County, AR who was forced into a nursing home for rehabilitation after surgery for a cracked vertebrea. This fascinating journal relates her affirmitive depiction of her experience.
Frances Kilcrease's tag cloud