Christina Mavricakis
Biography
Although family and full-time employment occupied much of Christina Mavricakis' life, she always found spare minutes for creative writing. When time restraints lessened, she began writing in earnest.

Many of her short stories and poems have been published in anthologies from The Writers Association and other print media, and have appeared in Inkspots and Long Story Short. Christina writes in many genres', but humor is her favorite.

Christina lives on the Big Island of Hawaii with her husband, two adored rescue dachshunds . . . and her computer.
Books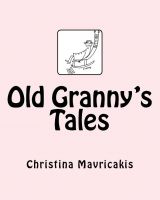 Old Granny's Tales
by

Christina Mavricakis
Two small children beg their granny to tell them a story about her adventures, and she is happy to oblige. Although her life was probably as dry as a Kansas cornstalk in October, in this story she gives the kids a bit of excitement along with a fib or two.
Christina Mavricakis' tag cloud