Doug Killpatrick
Biography
The author has over ten years experience leading kayak tours along Na Pali in the summer and in the Hanalei area during the winter wave season. Learned to surf triple over head Middles on short boards. Nearly ten years on the streets of Seattle as a bicycle messenger, all the while playing music in an improvisational tribal punk rock band. Spent time exploring, diving into, fresh water springs around Florida, out into the Gulf of Mexico, beneath. Canoeing and swimming, ice skating, on the lakes he grew up on in the Pine Barrens of New Jersey. Mostly records music now, does manual labor, picks up marine debris voluntarily.
Books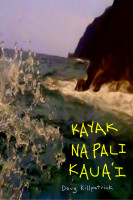 Kayak Na Pali Kaua'i - How To Handle
by

Doug Killpatrick
Kayak Na Pali Kaua'i is nearly a yard by yard examination of the coastline and the intricacies of ocean disturbances it provides. Near the middle of the Pacific Ocean, four thousand foot cliffs, caves, reefs, fifteen miles of wilderness - there is some risk. A mix of text, forty-four unique hand rendered maps, images, and over fifty instructional drawings.
Doug Killpatrick's tag cloud