Kiri .R. Newton
Biography
This is my first published book, although I have been writing novels
since age thirteen. I was inspired to become a writer after hearing how
J.K. Rowling went from living in a tiny flat to become the modern queen
of literature and with my father encouraging me to pursue what I love. I
enjoy Sherlock Holmes, blogging, tweeting, horse-riding, travelling,
drawing and pretending that I'm a rock god on my guitar when no one is
watching.
Books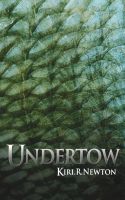 Undertow
by

Kiri .R. Newton
For far too long these sailor-drowning, ship-sinking sea sirens have been portrayed as happy, peaceful creatures who want nothing more than to fall in love with a prince and live happily ever after. Undertow is an unconventional twist on one of the oldest mythological creatures known to man.
Kiri .R. Newton's tag cloud