R. Hampton Simpson
Biography
"R. Hampton Simpson has been an avid reader his whole life. From a young man, he enjoyed reading as a tool for learning and as a means of escape from an often chaotic home of thirteen brothers and sisters. Throughout his reading experiences, he is always fascinated by an author's ability to bring characters to life. In addition to the action and adventure of the plot, the depth of a character's personality -- his or her motivations -- are what intrigues him most in the stories he reads.
Black is Simpson's first published novel. He has written for many years and is constantly creating scenarios and characters in his head. Black is his first attempt at putting it all together and exposing his work to the public. It is his experiment with bringing the characters in his head to life -- giving them a voice through the written word.
Mr. Simpson is a native of Charlotte, North Carolina where he lives with his wife and three canine companions."

Excerpt From: R. Hampton Simpson. "Black." iBooks.
This material may be protected by copyright.
Books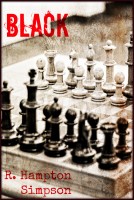 Black
by

R. Hampton Simpson
A series of missing persons in a large urban city prompts the police to hire an ex-cop, previously forced into early retirement, to look into the disappearance of the latest victim. Her investigation leads to a larger conspiracy whose impact has a deadly cost.
R. Hampton Simpson's tag cloud