David Quesnel
Biography
A university student, specializing in philosophy to earn a PhD. My aim is to bring moral philosophy to a younger classroom, as our future lays with them. Philosophy has been killed by materialists and I am here to revive the lost art of critical thinking to the public. Philosophy is Pandora's box. If people knew how to philosophize, they would quickly realize that the social structure we live in is for psychopaths. This is the main reason philosophy is dead. Science has become like religion to the other extreme. Science kills the thinker and makes them dependent on the few for the answers to life, much like religions and their priests. My goal is to end this dependency and to give that power back to the people. All I will ever teach is the tools to think, not about what I think. Do you fish for a man or do you teach him how to fish for himself? To this day, we believe this dependance is a form of social progress, while the reality is, an easier life make us weaker. It is just an illusion of progress and I aspire to expose these fallacies.
Where to find David Quesnel online
Books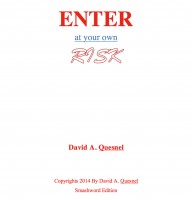 Enter At Your Own Risk
by

David Quesnel
Just as the title suggests, this way of thinking is not for everyone, therefore, it might anger some readers. It is not that it is meant to anger people, but it is because of the fact that it is very difficult to question the things we love, or things we see no wrong in.
David Quesnel's tag cloud