Maegan Kris
Biography
Hello Everybody!!

This is MaeGan Kris!!! Ofcourse, this is my Pen name.I have always wished or rather desired to write books, to be an author. However, that time I was quite young and never could really dwell with only that thought.
As I grew up i was facinated with computers and took up programming and entered the Software world as a corporate person which left me no time to think of my desire...

Right now, This Here comes June is a poem compilation which with the help of smashwords, I have made my distant dream into reality.

A partime Sw engg into writing, amateur baker, exploring cooking and a fun filled homemaker!!
Books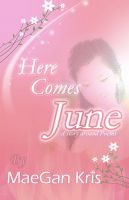 Here Comes June...... (A Story Around Poems)
By
Maegan Kris
Price:
$0.99 USD.
Words: 1,830. Language: English (Indian dialect). Published: November 4, 2013. Category: Fiction
Here comes June... (A story around poems) is a compilation of poems. The poems were originally written under various circumstance, but they have been compiled to tell a story on its own. This collection of poems is like a bollywood Movie!!.
Maegan Kris's tag cloud