Krupa Thakkar Gedia
Biography
Krupa Thakkar Gedia is a Primary lead Montessori teacher for children aged 2.5-6 years. Originally from Mumbai, India she now lives in Albuquerque, New Mexico with her husband and friends. She loves simplicity, the simple joys of life, the Bhagavad Gita and her family. She writes (has a blog- krupagedia.wordpress.com), doodles, draws and paints. She rides a bicycle too! She is big on kindness, creativity, books and love! Her goals in life are to be a better person than she was yesterday, seek the ultimate truth of life and to be 'her' while life moves on.
Books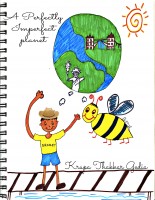 A Perfectly Imperfect Planet
by

Krupa Thakkar Gedia
Is 'Being Perfect' and 'Fitting in' more important than 'Being Yourself'? Think more than that with, 7 year old Bradley and his best friend Peptur, the bee. Peptur makes efforts to pep up his resented friend through a fun and an innocent look at the imperfections of planet Earth, its creatures, people and places. A Perfectly Imperfect Planet shares a simple secret of 'being you' as life moves on.
Krupa Thakkar Gedia's tag cloud