Krystina Schuler
Biography
What's this all about? Thanks for asking!

I am a recovering paralegal, avid reader, and now a writer. A New England native, I grew up in Connecticut and am now a Mid-Atlantic transplant where I live with my husband and son. When I am not writing, I can often be found teaching myself to play piano and ukulele, or listening to a range of eclectic music. I also enjoy long bike rides with my family and have fun dying my hair purple. I cannot whistle, and I don't like the taste of honey.

I have always liked writing. I was that weird kid in your class who didn't complain about the next writing assignment. I may have groaned along with you, but secretly I was worried about how to stay within the page limits, not how to reach them! While I've spent a huge part of my life reading other authors' books, I never tried writing my own novel before, until now.

My first novel, The Girl in the Gallery (to be released for sale soon, stay tuned for a specific launch date), started off as an experiment spawned by a minor identity crisis on one usually jarring birthday. Starting off as a personal challenge, I soon discovered that the more I wrote, the harder it was to stop until Henry and Kate's story was told. I enjoyed creating their world. I hope you enjoy discovering it.

What's your story? Swing by my website or Facebook page and drop me a line to say hi!
Books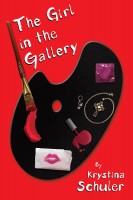 The Girl in the Gallery
by

Krystina Schuler
Price:
$3.99 USD.
Words: 176,920.
Language: English.
Published: December 7, 2015
. Categories:
Fiction
»
Romance
»
New adult
Kate and Henry have been married for 50 years and are celebrating their anniversary. While snuggling, Kate closes her eyes, remembers their story, and is transported back to the beginning of it all, when everything was new, emotions ran raw, and anything was possible.
Krystina Schuler's tag cloud