Kurt Fawver
Biography
Kurt lives in that dark land of swamps and simulacra known as Florida, but is originally from the Pennsylvanian wasteland that lies between Pittsburgh and Philadelphia. When he's not writing nightmarish arcana, he's either teaching college students the joys of reading Clive Barker's Books of Blood or trying to corral two semi-feral chihuahuas with his ever-patient wife. Kurt owns a Ph.D. in literature, but won't require that you call him "doctor" unless you're a complete douchebag or an unrepentant philistine. His favorite cryptid is the Mongolian death worm and his favorite zombie movie is Pontypool.
Where to find Kurt Fawver online
Books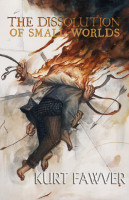 The Dissolution of Small Worlds
by

Kurt Fawver
Eerie and unnerving events are welcome reads for horror and weird fiction aficionados, and Kurt Fawver's collection delivers: a group of work-study students grow obsessed with a particular, otherworldly room at the university library; a monster's mother wants her to assume a traditional life; and a mysterious calling haunts an elderly man at a nursing home.
Kurt Fawver's tag cloud