Kyle Buchanan
Biography
After persevering through four university degrees, Kyle Buchanan realized how beneficial some expert memory techniques would have been for all that study. He left behind a career in the financial markets, and now teaches people to fulfill their amazing memory potential.

When he's not creating memory products, Kyle is chasing and being chased by his young son in the back yard of their home in Toowoomba, Australia. The squeals of laughter are often mistaken as coming from his son.
Books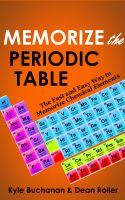 Memorize the Periodic Table: The Fast and Easy Way to Memorize Chemical Elements
This book will help you memorize the entire periodic table in the fastest and easiest way possible. The 'secret' to memorization is visualization and association. "Memorize the Periodic Table" will tell you exactly what to visualize so you can memorize every element in the periodic table. Buy this book now and recite the periodic table tomorrow.
Kyle Buchanan's tag cloud