Kylie H
Biography
Kylie H has been teaching young children since 1996. She has worked in five different countries in Asia, Europe, Africa, and the Pacific, and has taught children from four years old to sixteen! Her passion is books - and teaching children to love them as much as she does.

Kylie has begun writing ebooks to share her most useful discoveries with you, so that your child can also benefit from her years of experience teaching children to read and write in a fun, exciting, stress-free way.

Keep checking this space for more new ebooks by Kylie H!

Happy Reading!
Books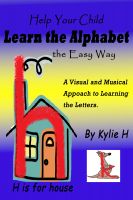 Help Your Child Learn the Alphabet the Easy Way: A Visual and Musical Approach to Learning the Letters
by

Kylie H
Kylie H (B. Ed, Dip. T) has been teaching children to read and write since 1996. In this book she shares with you one of her most powerful tools for learning the English alphabet. This book contains her easy-to-remember alphabet song and 26 retro crayon images which link the shape of each letter to a word, making the letters easy for your child to learn and remember.
Kylie H's tag cloud