Laurie Baxter
Biography
Laurie Baxter has degrees in both puppetry and screenwriting because let's face it, majoring in English would have been no more useful and way less fun. She loves chocolate, ice cream, chocolate ice cream, dogs, New York City, old movies, modern architecture, all kinds of theater, and music from before she was born. Her eighth grade English teacher told her to become a writer, so she did.
Where to find Laurie Baxter online
Books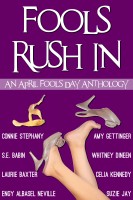 Fools Rush In! An April Fools Day Anthology
by

Celia Kennedy

,

Connie Stephany

,

S.E. Babin

,

Laurie Baxter

,

Engy Albasel Neville

,

Amy Gettinger

,

Whitney Dineen

, &

Suzie Jay
(5.00)
A collection of chick lit short stories set around April Fools' Day. On the first day of April, tricksters play their pranks, but what will be the outcome? Some will find love, while others will experience betrayal. Other pranksters will seize adventure and travel to confess or rekindle romance. Some may face rejection, seek forgiveness, or earn a second chance. How love and laughter rule the day.
Laurie Baxter's tag cloud