L.D. August
Biography
L.D. August is a slightly frazzled student of Roman history currently trapped in a complicated relationship with Marcus Tullius Cicero. Sometimes she thinks she hates him, but then she reads the letters and is sucked in again by that terrible sense of impending tragedy. Meanwhile she amuses herself by playing with her work, and also his.
Books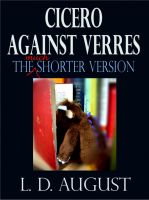 Cicero Against Verres (The Much Shorter Version)
by

L.D. August
Price:
$0.99 USD.
Words: 30,780.
Language: English.
Published: August 19, 2012
. Categories:
Nonfiction
»
History
»
Ancient
Neither a translation nor a commentary nor in any way respectful towards our great classical heritage, this is a concise, explanatory-note-free summary of Cicero's speeches against Verres that aims to capture the spirit rather than the letter of Cicero's oratory. He probably wouldn't approve. But who knows? and does it matter anyway?
L.D. August's tag cloud