L.D. Raye
Biography
L.D. Raye has been in love with the idea of writing since a small child, never missing an opportunity to jot down an idea no matter if in a dark movie theater with nothing to write on except a napkin. L.D. is currently navigating life with the grace of God, a pen, and the hope to one day relax from all the hard work of the day to day.
Smashwords Interview
Books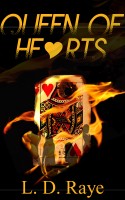 Queen of Hearts
by

L.D. Raye
(4.00 from 1 review)
The Heart sisters were never the type of women who would take a chance on love. Doing that went against everything that was natural to them. It would take the patience and addictive sense of humor of one man to knock through all the layers and extremes of these sisters. If the sisters can open themselves up before sending everyone's happy ending up in smoke will be the true test.
L.D. Raye's tag cloud