Lewis Perelman
Biography
Dr. Lewis J. Perelman has had extensive experience as a consultant, policy analyst, and strategist. He has helped public and private organizations to innovate, improve performance, manage risks, and reduce costs. In the past he worked on federal solar and renewable energy programs at two U.S. national laboratories. He also has been a fellow of the Hudson Institute, the Homeland Security Institute, and the Homeland Security Policy Institute. Dr. Perelman's previous books include the best-seller School's Out as well as The Learning Enterprise and The Global Mind. He also edited Energy Transitions: Long-Term Perspectives and contributed chapters to that book as well as to Energy, Economics, and the Environment (G.A. Daneke, ed.) and Market Liberalism: A Paradigm for the 21st Century (D. Boaz and E.H. Crane, eds.).
Where to find Lewis Perelman online
Books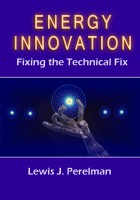 Energy Innovation: Fixing the Technical Fix
by

Lewis Perelman
Energy policy is a mess of tangled problems and political conflicts. Many look to technology to break the logjam. But breakthrough innovations are needed to make "clean" energy cheap. With a plan emphasizing open international participation, crowdsourcing, and crowdfunding, Lewis Perelman's "Energy Innovation" provides an original, timely roadmap toward a more energy-secure global economy.
Lewis Perelman's tag cloud