Leonardo Galea
Biography
Leonardo Galea was born in Detroit, Michigan. He spent his youth playing contact sports and hunting. At the age of 18 he joined the military and has served in both Iraq and Afghanistan. Leonardo writes about the training, experience, and the effects of combat. Leonardo is happily married and lives with his wife in Michigan. However, he still fights the urge to indulge in the perpetual lust of battle. He wishes you luck, if you have become addicted this dark wine.
Where to find Leonardo Galea online
Books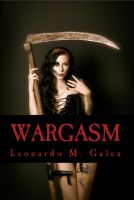 Wargasm
by

Leonardo Galea
You will never forget her. Death, I mean. She is the sexiest woman you will ever have. We who are warriors rarely admit this to others. Instead, we hide our sick fantasy from our loved ones and civilian friends. I am different. I know I am forsaken. This is the story of a man haunted by the shadows of war. He sought to numb his pain with a new even more addicting drug: lust.
Leonardo Galea's tag cloud