iJET Flight Support Services
Biography
The Cheif Executive Officer of iJET- An international trip-planning and flight management company, specializing in providing regulatory authorizations and ground support services to aircraft operators around the world. iJET was founded in 2014 and provides a diverse range of flight support services including Flight Permits, Ground Support and Handling, Fueling, Inflight Catering, VIP Concierge and more. Headquartered in Dubai, with global offices in Malta, Spain, India, Turkmenistan and Madagascar. We are dedicated to earning our clients' trust, which is why iJET is a member of TRACE International, the leading anti-bribery, standard-setting business association. We also act in accordance to the US Foreign Corrupt Practices Act and UK anti-bribery laws, delivering an unfailingly dependable, trustworthy service to our clients.
Where to find iJET Flight Support Services online
Books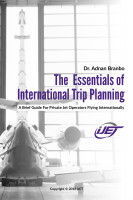 The Essentials of International Trip Planning
by

iJET Flight Support Services
A go-to guide for private jet operators and aviation enthusiasts interested in the how's and why's of international trip planning, giving them an insight about flight operations. Understand the 6 fundamentals that every aircraft operator should be well-acquainted with- overflight permit, landing permit, navigation fees, airport slots, crew visa, and purchasing aviation fuel , in an easy language.
iJET Flight Support Services' tag cloud