L A Grow
Biography
I was a stay at home mom for 12 years to three boys. When my youngest son started school full time, I finally had kid-free time on my hands. I have a degree in Secondary Education/English, and I always wanted to write. I started writing and haven't looked back. I write for the same reason I read--to escape. My 2 novels in the series Love Games have changed my life. I am currently at work on the third. I live in Lititz, Pennsylvania with my husband, 3 sons, and our wonderful dog.
Books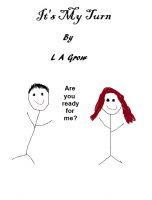 It's My Turn
by

L A Grow
Jasmine West has fled city life and wants to reinvent herself. She has convinced herself that she is content being alone. She believes that, until she sees Evan. He is the most arrogant, rudest, most mysterious man she has ever met. Yet, he invades her every thought. Jasmine just wants a turn at real love and happiness. Can she find it in this crazy little town?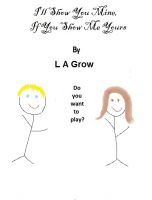 I'll Show You Mine, If You Show Me Yours
by

L A Grow
Thirty year old Jesse Banks thinks she is having an early mid-life crisis. Recently single, she's gone from blonde to redhead, joined a pole dancing class, and quit her very good job. Seeing the Adonis in Levi's with the hypnotic, light blue eyes throws Jesse's life into one of adventure, fun, romance, tears, and eventually love. Can dreams become reality for Jesse?
L A Grow's tag cloud