LaDonna Marie
Biography
LaDonna M. Cook is an Author, Writer, Poet, and Motivational Speaker. Born in Mississippi and now lives in GA. She published her first poem in anthology: Whispers with The League of American Poets in 2007. In 2010 she self published her first book Expressions of the Mind, Body & Soul. She received a Certificate of Congratulation from Congressman Bennie Thompson 2nd district of MS. She was inducted Who's Who in Black Mississippi in 2012. In 2013 she released her 2nd book Until Tomorrow Comes. She is apart of the Sibella Poetry Magazine for 2014, and also she is in Anthology: The Gospel According to Poetry. Until Tomorrow Comes was awarded Honorable Mention in the 2014 Paris Book Festival and 2014 DJ Gatsby Book Club Literary Award in Poetry. LaDonna is a finalist in the Divas of Colour 2015 Diva Author/Writer Award. Her Book Lessons, won Bronze Medal in Inspirational Poetry 2015 Readers' Favorite, Honorable mention in New York Book Festival, National Indie Excellence Finalist, and Red City Review Book Awards Finalist. She also placed a honorable mention in New England Book Festival for Eloquent Love Notes.
Where to find LaDonna Marie online
Books
Eloquent Love Notes
by

LaDonna Marie
Allow the poetic expressions of Eloquent Love Notes to guide you through a journey of admiration, love, and raw emotions. The author desires for you the experience the beauty of words written from the heart. The author wants you to search within your soul to explore love at its most purest form.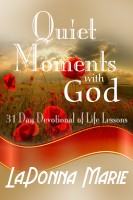 Quiet Moments with God: 31 Day Devotional of Life Lessons
by

LaDonna Marie
The author wants to express that life brings joyful, happy moments along with trials and tribulations. As you progress along your journey, it is important to stay present in the moment and understand that each day is a new blessing and a gift from God that should be cherished. When you are faced with trials and tribulations, give it to God and simply release it into the universe.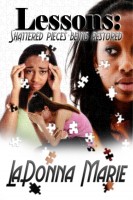 Lessons: Shattered Pieces Being Restored
by

LaDonna Marie
With the poetic scribes in this book, the author looks at the different life scenarios, the true, real and present issues. Author LaDonna focuses on thoughts about growing pains in life, the ones searching for love, and those who seek to become empowered to grow. It is the author's hope that each person is able to find the strength to move forward and to seek healing and grow.
LaDonna Marie's tag cloud