Res Cogitans
Biography
Res Cogitans is an electronic journal of philosophy based at the University of Southern Denmark, Odense. It aims at providing a forum for philosophical discussion at a high level, but does not require any specific methodology or philosophical orientation. Articles concerned with subjects bordering on philosophy, such as psychology, linguistics, literary theory, artificial intelligence, the history of science, sociology, religion, theology, cultural studies etc. can also be accepted if the editors judge them to be of sufficient philosophical significance.
Books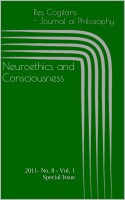 Neuroethics and Consciousness
by

Res Cogitans
This special issue of Res Cogitans is dedicated to the problems of neuroethics, i.e. the ethics of brain research and its applications. Most of the authors of the papers are philosophers and bioethicists, and their approach is conceptual and normative rather than purely empirical – although many empirical matters are also considered in the papers.
Res Cogitans' tag cloud