Lara Lee
Biography
Lara Lee is the author of young adult fantasy fiction novels. Sometimes, she is also a graphic designer, wife, mother, and Sunday school teacher. After growing up in Florida with her head stuck in various books, she ran away to Oral Roberts University to obtain a Bachelor of Science degree in Graphic Design and a husband. Then, she worked professionally with the children's curriculum publisher, Mentoring Minds in Texas before following her husband on a crazy adventure in Scotland for four years where her son was born. She has lived in three states and four countries and has visited even more destinations with an insatiable curiosity that shows up in her writing. Currently, she lives in Texas with her husband and son who both regularly participate in her misadventures and random schemes.
Smashwords Interview
Books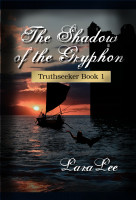 The Shadow of the Gryphon
by

Lara Lee
An unusual Brownie adventurer named Arthur, and the twin princes, Timothy and Nathaniel, join forces to travel to the underside of their coin-shaped world to break the curse that has turned Nathaniel's fiancee into stone.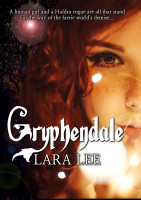 Gryphendale
by

Lara Lee
A human named Autumn falls through a portal into a magical realm. She teams up with a Huldra rogue named Sage to save both the human world and the faerie world of Gryphendale from the wizard dictator, Maldamien, who wants to become a god.
Lara Lee's tag cloud