Larisa Renar
Biography
Larisa Renar is a candidate of psychological sciences, biologist, psychologist, MBA, coach. She is a creator of a doctrine of nature of woman energy, an author of teaching novels for women.

Larisa Renar is an author of 8 best-sellers for women. Total run of her books exceeds half a million copies.

The bestsellers – "The circle of feminine power", "Opening the new yourself", "Elixir of love" – rank first in ratings of large book stores.

Larisa Renar has conducted 1150 trainings and seminars in 9 countries of the world within 14 years.

Larisa Renar is a founder and creative director of "The Academy of the Private Life" – a training center for women – in Moscow and Saint Petersburg, which has partner representative offices in 35 cities over the world.

Larisa Renar regularly speaks as a psychologist-expert at large TV channels of the CIS: "1st Channel", "CTC", "Domashniy", "Friday", "STB". Larissa Renar is interviewed by the largest mass media of Europe, including London-based magazine "The Times".

During her creative activity, she has gathered beside her huge woman audience all over the world: more than 120,000 followers in social networks, about million readers, hundreds of thousand viewers of her YouTube channel.

About 130,000 women have completed training programs by Larisa Renar's methods.
Books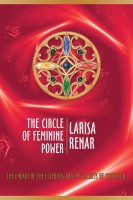 The circle of feminine power: the energy of the elements and the secrets of seduction
by

Larisa Renar
Larisa Renar invites you into a world where the various elements and streams of energy play no less a role than the exchange rates and where relationships don't simply develop, but are artfully built according to the laws of psychology, and where legends become reality. Female energy rituals are here presented for the first time in a fascinating way and through an impressively effective system.
Larisa Renar's tag cloud