Anthony Delano
Biography
Anthony Delano went to London from Australia after an early newspaper career there and was soon a foreign correspondent for the Daily Mirror, which at that time sold nearly five million copies daily. He was stationed in Rome during the Dolce Vita days, in Paris when General De Gaulle was dismantling the French empire, then the United States where he covered, among many other dramas, the civil rights campaign and the assassination of President John Kennedy. Additional assignments took him all over the globe: wars in Africa and the Middle East, tours with the Queen and other members of the Royal Family; most hazardous of all, perhaps, the historic Beatles tour of America. In between there were executive stints in London. He was managing editor of the Mirror when the monstrous tycoon Robert Maxwell took it over. Clearly time to go. He began to teach journalism and research it academically, gaining first a Master's degree at Queensland University of Technology then a PhD from the University of Westminster (his 2001 doctoral thesis, The Formation of the British Journalist 1900-2000, is widely cited). He became a senior lecturer, senior research fellow and finally visiting professor at the London College of Communication. He lives in the South of France, married to Patricia, a literary scholar.
Where to find Anthony Delano online
Books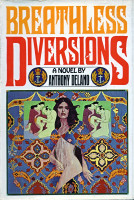 Breathless Diversions
by

Anthony Delano
This hilariously entertaining, deliciously sexy novel of British seapower at the turn of the 19th century is Horatio Hornblower handled with outrageous camp and terrific pace and drive. The naval scenes are superb and Anatolia is a matchless heroine.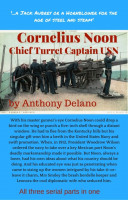 Cornelius Noon, Chief Turret Captain USN
by

Anthony Delano
With his master gunner's eye Cornelius Noon could drop a bird on the wing or punch a five-inch shell through a distant window. He had to flee from the Kentucky hills but his singular gift won him a berth in the United States Navy and swift promotion. When, in 1912, President Woodrow Wilson ordered the navy to take over a key Mexican port Noon's deadly marksmanship made it possible.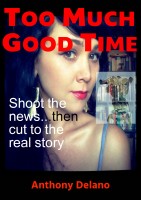 Too Much Good Time
by

Anthony Delano
Price:
$5.99 USD.
Words: 90,640.
Language: English.
Published: July 11, 2016
. Categories:
Fiction
»
Adventure
»
Action
Before news was shot on microchip and delivered on the internet, getting the pictures home could be as dangerous as filming under fire. Reporter David Talbot and the outrageous cameraman Donnelly come from that frantic time of the Kennedy Assassination, Vietnam and the desperate Arab-Israeli wars. The rackety world of 1970s London and New York. As did sloppy, sexy magazine writer Adeline Tooth.
Anthony Delano's tag cloud