Larry Berliner
Biography
Larry Berliner is a retired middle-school English teacher who survived more than three decades in some of the most challenging – and rewarding – classrooms in The Bronx. He was also (and still is) a freelance writer of a variety of educational materials. Larry lives with his wife, and fellow author, Susan, in Yorktown Heights, NY, where he continues to remind us that You Can't Be Serious.
Books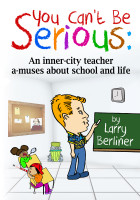 You Can't Be Serious: An Inner-city Teacher A-muses About School and Life
by

Larry Berliner
Eleven laugh-out loud chapters about a former inner-city teacher's experiences in and out of school. Topics include School Daze, The Officer's Candidate; Can We Talk?;Telephone Tag; Cell Privileges; At Your Service-Not; We, the Jury; Family Vacations: A Tale of Two Brothers; A Shot in the Ass; No Place Like Om; With a Side of Effects to Go.
Larry Berliner's tag cloud