Larry Taylor, Jr
Biography
I was born in Bryn Mawr, on the Main Line, six miles outside of Philadelphia. I attended The Haverford School, a college preparatory school for boys, as my father had done. While attending Haverford College, across the street from my prep. school, I successfully bid on a place on an archaeological dig to Alaska's North Slope in 1967 before Alaska's oil was discovered. I became enamored with Alaska and returned after college, not knowing then that I would stay. I first worked as a dynamiter for logging road construction, then returned to college, this time in Fairbanks. I married a beautiful woman, became a chemist in a pulp mill, started a chemistry lab, and worked as an environmental engineer in public health. We finally moved off the road system. I have written about this, our greatest move, and my Alaskan experiences in the memoir On Flat Lake Time.
Where to find Larry Taylor, Jr online
Books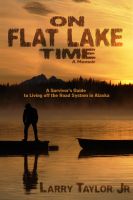 On Flat Lake Time
by

Larry Taylor, Jr
On Flat Lake Time is a Survivor's Guide to Living off the Road System in Alaska.
Larry Taylor, Jr's tag cloud