Larry Sparks
Biography
For economic reasons, Larry Sparks continued to fish in Alaska for another ten years after 1964. He gillnetted and purse seined out of Bristol Bay and Kodiak and also continued to fish in Puget Sound.
In case you are wondering, Larry did captain his own boat.
Thereafter, except for a brief three-week vacation job in 1991 on a 120-foot salmon tender, M/V King Oscar, Larry did not return to southeastern Alaska.
He received his undergraduate and graduate degrees in history and political science at Western Washington University, as well as an MBA from Seattle Pacific University.
Larry began an onshore business career at the Boeing Commercial Airplane Company in October of 1974 and continued to work for the same company until December of 2005, holding down positions in both finance and procurement. During his 32-year career at Boeing he worked in various capacities on every commercial aircraft program, as well as on the B-2 military bomber.
The skills he developed as an independent business person at an early age did not automatically transfer easily into the corporate world. Whereas independent commercial fishing centers all decision making on the fisherman himself, large corporations like Boeing value teamwork and decision making compromise, and the best solutions are frequently the result of long and difficult negotiation. Naturally, Larry was initially quite frustrated by this; nonetheless, he managed to keep the values he learned as a young fisherman—an independent spirit and a love of fundamental principles—and he retired with a feeling of great satisfaction that has carried over into the busy life he leads today.
Larry continues to work in the aerospace business as a consultant and is involved in local civic affairs. He has been married to his wife, Janice, over twenty years, and together they raised her son. They spend half of each year in Cannon Beach, Oregon and the other half in Chandler, Arizona.
Books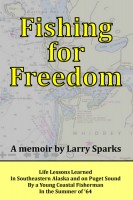 Fishing for Freedom -- Life Lessons Learned by a Young Coastal Fisherman in the Summer of '64
by

Larry Sparks
(4.00)
A young lad of 16, spending a summer aboard his father's coastal fishing boat in the summer of 1964, begins to learn the lessons that will guide him through an active and satisfying life. And in the process, he risks life and limb, spends hours and hours just bored, and has adventures that would rival those of Tom Sawyer -- but in a totally different environment.
Larry Sparks' tag cloud