Jim Cleary
Biography
Jim Cleary is an attorney in Kansas City, Missouri. He started his legal career as an Assistant City Prosecutor in the Municipal Court of Kansas City, and then practiced law for many years. His first book for non-lawyers was a 70,000-word hardcover volume entitled Prosecuting The Shoplifter – A Loss Prevention Strategy (Butterworth Publishers, 1986), which contained 78 actual court cases on the law of shoplifting for retail merchants. Cleary also produced a training video and a set of shoplifting loss prevention seminars. He was a speaker at shoplifting loss prevention conferences and presented the training seminars to retail merchants all over the country for ten years, which was a sideline to his law practice.
Books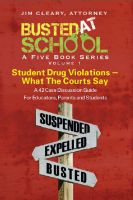 Busted At School
by

Jim Cleary
Price:
$7.99 USD.
Words: 65,380. Language: English. Published: June 27, 2013. Categories:
Nonfiction
»
Law
»
Criminal
BUSTED AT SCHOOL is about students who are suspended, expelled or criminally prosecuted when they possess, use or sell drugs at school. Presented as a discussion guide for teachers, students and parents, the format of the book encourages reader groups to discuss with others "what happened" to the students in these 42 interesting cases.
Jim Cleary's tag cloud