Anna Switzer-Howard
Biography
This profile is of the nephew who published this book. The preface to the book gives a profile of the author, my Aunt Anna Switzer-Howard. .I am a retired technology manager and marketing director. I worked in the petroleum refining industry for 33 years. I began my college education by going to night classes at William and Mary college while I was stationed at Langley Air Force Base in Hampton Virginia. I loved English literature and history, however I felt engineering would be a better career. Not sure if that had to be true, but I was from a small farm in Illinois, and I didn't know much about the world then. I was discharged in 1966 and enrolled full time in the Chemical Engineering Department at the University of Illinois. I did quite well in engineering, so well I got a Fellowship and went to graduate school at UC Berkeley. I started my career in research and development. I moved through various jobs in engineering design, business planning,management, a liaison to the law department, and spent the last 12 years of my career marketing refining technology. I took up flying and flew airplanes for 15 years on the weekends for recreation. I loved flying and going to airshows in those days. I met and married a lovely woman in China in 1999, and we were transferred tp Europe almost immediately. We saw every country in Europe and Scandinavia, Russia, and many countries in Eurasia, and most in the Middle Ease. After I retired, we moved to China to live in 2005. We lived there four years and I returned to my first love, English, and taught it at Dalian University. I returned to another love of mine, motorcycle riding which I had done throughout my college years and a few years thereafter until my youngest brother was killed on one. In China I rode across Xinjiang, on the old Silk Trail route, and across the daunting Taklamaken desert. When I returned to the US, I bought a couple of motorcycles and I ride long camping trips, usually 5000 to miles, at least once per year. I have ridden every significant motorcycle road from the western side of the Dakotas and north of Mexico. I have ridden in Alberta and British Columbia twice, but have yet to make it to Alaska by land. I have traveled to at least 60 countries, partly because my technology marketing job sent me all over the world for 12 years. I write poetry, some short stories, and I love history. I write because I like to write. I never wrote for publication, but now I think I will publish some of my poetry for sure, and perhaps some of my history essays.
Books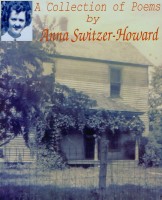 A Collection of Poems by Anna Switzer-Howard
by

Anna Switzer-Howard
This collection of poems was written by my Aunt Anna Switzer-Howard Anna was a housewife in the small rural community of Pawnee, Ill, where she raised eight children. Her poems are about appreciating the simple joys that all of us are given, regardless of our station in life. They are about the beauty and symmetry of nature, her faith in its creator, motherhood and love of family.
Anna Switzer-Howard's tag cloud